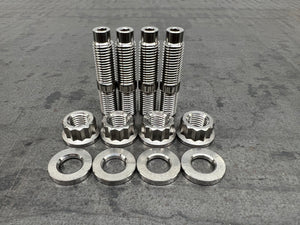 New at OdysseyFAB! Titanium hardware kits! Titanium hardware is around 45% lighter than steel. It is much stronger and will not corrode like OEM steel bolts or studs.
Our stud kit is made from Ti6Al-4V (Grade 5) titanium. The end of the stud has an integrated hex key tip that allows them to be easily installed using an allen wrench.
Each stud/washer/nut assembly weighs only 12grams.
Available in polished or burnt finish.
This kit includes:
(4) M10x1.25x45mm studs, nuts, and washers. 
Please confirm clearance on your manifold before ordering. Some manifolds will have less clearance depending on the layout of the runners, therefore we cannot guarantee fitment with every manifold.
We recommend the use of anti-sieze for installation.